Carpet Tile is Huge for a Reason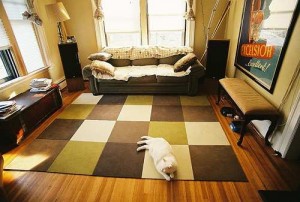 All the major carpet brands are rushing to meet the demand of the latest carpet innovation/resurgence: carpet tile.
Commercial carpet tile is already huge
Carpet tiles have been big in industry for years. Airports, office buildings, and other commercial spaces have known and used carpet tile successfully and been thrilled with the result.
Homeowners want the ease and cost-effectiveness of carpet tile
Consumers are wanting to find a cost-effective way to have the comfort and style of carpet with the convenience and affordability granted by carpet tiles.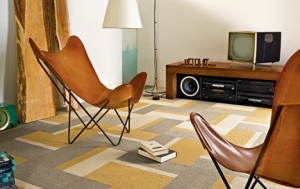 Home owners are also sick of replacing their entire carpet every 5-10 years. This costs thousands of dollars, when all that may need replacing is high-traffic, high-stain areas like play rooms, dining rooms, or hallways. Carpet tiles can be individually replaced.
Carpet tiles are huge in Denver homes because:
Carpet tiles allow home owners in Denver to replace small squares of carpet (normally around 18″-20″ square) if there is a stain in the carpet.
Carpet tiles are perfect for child play areas where stains happen often.
Carpet tile can be combined into fun and unexpected patterns, livening up a space.
Flor Floor Tiles in Denver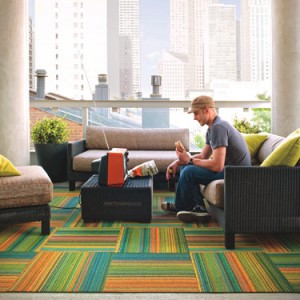 Flor is a great innovator for floor tiles. They offer some amazing patterns innovative designs, and great technology for carpet tile in Denver. They feature "mod" designs as well as more traditional designs.
Discount Carpet Tile in Denver
When you buy carpet tiles, you're paying full retail price. This can be a big financial problem: carpet tiles (also known as "carpet squares") can be expensive when you're trying to cover a large area of floor.
If you purchase from us, we will save you money on carpet tiles. We get warehouse bulk pricing on carpet tile.
We can save you money on:
Legato carpet tile
Milliken carpet tile
Flor carpet tile
Commercial carpet tile
Denver Carpet Tile Installation
Although carpet tile installation is simple, it's not easy: it's physical work. We do carpet tile installation, and you can either direct us which tile to put where (so you can create great patterns), or you can let us install your carpet tile for you, and save time to take care of your busy schedule.
Don't feel silly: let us get on hands and knees. We're happy to install your carpet tile for you.